Good afternoon church family,
We are scheduled to sing at the Lifecare facility at 4:30pm today. However, Lifecare has invited us to come inside to sing with the residents! Here's what you need to know.
Come early to the main entrance to get your temperature checked and make sure to have a mask on.
When walking the hallway in the building, a mask is still required.
Lifecare's policy does not require a mask while we are singing in a group and not in close proximity to the residents.
When leaving our singing area or interacting closely with residents, a mask must be put back on.
This policy was given to us today (5/25) by Heather Stiles, the Lifecare Director of Recreational Services.
Thank you for showing God's love throughout the pandemic to our loved ones at LifeCare!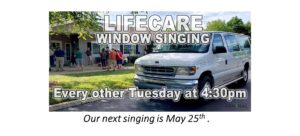 Don't forget, you can submit elder and deacon candidates here: