Central News: Tomorrow is our annual fishing day! Whether you like to fish or like to watch & laugh, come out with your lawn chair to the Blevins pond for fun at 8am. Drinks, chips, and snacks will be available. The pond has a slew of bass and brim that are almost always hungry. Extra fishing rods available.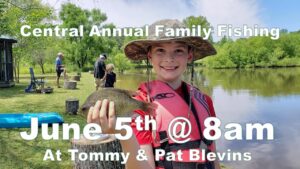 Check out our 2020 fishing experience here: https://www.facebook.com/media/set/?set=a.10158607405147490
Enjoy reminiscing 2019 here: https://www.facebook.com/media/set/?set=a.10157414731057490
The best way to Tommy & Pat Blevins home is to copy these GPS Coordinates into Google Maps.
35.92443052367595, -85.6570611323441
From the church building to the Blevins:
via US-70 W and Indian Mound Rd
Head south on N Main St toward Bockman Way
Turn right onto US-70 W/W Bockman Way
Continue to follow US-70 W
10.1 mi on Bockman Way toward Smithville
Turn left onto Indian Mound Rd
3.5 mi south on Indian Mound Rd.
Slight left onto S Pin Hook Rd
Turn left at Tommy and Pat's Driveway