The Covid-19 vaccines will arrive a little too late to give greater freedom for family gatherings, meaning that many of us will miss a valuable tradition this year. Here in 2020, many people are finding a first as they are forgoing the annual office parties, family meals, and New Year's Eve blowouts. Our hearts break f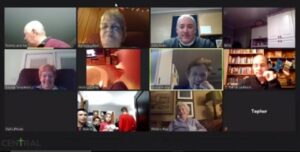 or families in this season but we take solace in the tools God has granted to still stay connected even though staying socially distant. Here is how you can host your own Zoom family gathering.
Communicate (thru text, email, or phone) with your fa mily to decide on a family gathering time (i.e. Dec 24th at 5pm Central time). Make sure to include the time zone for family & friends that live father away.
Create a free Zoom account. (zoom.us) Only the gathering host needs a zoom account. Participants can join the event without creating an account or downloading the software. Note that free accounts limit g
atherings to 40-minutes.
Click the "Schedule a Meeting" tab after logging into the Zoom website and fill in the appropriate information. Make sure to set a passcode that is easy to remember. Click the "Save" button at the bottom when finished.
Copy the Invitation Invite Link provided on the page and send it to your family and friends in the group text or email. It will look something like this:

Send reminders the day before or morning of the event to all family members and friends. Emails are easy to forget!
Login and start the meeting on your decided day! For us, downloading the Zoom App or Software for hosting a meeting has proved easiest, so we recommend testing that out before the actual gathering. To easily find your meeting, click this link: https://us02web.zoom.us/meeting#/upcoming .
Topher's Tips for getting the most out of your Zoom gathering.
Choose one person to be the "Moderator" for the Zoom meeting. It's tough to understand others when people are talking at the same time. Ensure everyone gets time to share by choosing a moderator who is always "unmuted" and has microphone control.
Plan in advance for someone to give a musical performance or a Christmas reading. It warms our hearts
to see a grandkid strum the guitar or one family to sing a Christmas carol. Remember, singing is laborious on Zoom due to the half second delay.
Play an easy Zoom game to enjoy with family. Some of the easiest are 20 Questions, Bingo, Trivia, Pictionary, and Charades.
Always include a prayer, thanking God for family past and present. Make sure to thank Him for the ability to meet on Zoom!