While it might not be the prettiest photo, it is a beautiful sight to witness the elders humbly bowing in prayer asking God Almighty to bless specific people, our church, and our community. The elders gather together every Tuesday night to pray for the requests of the congregation and give praise for what God is doing in the Upper Cumberland!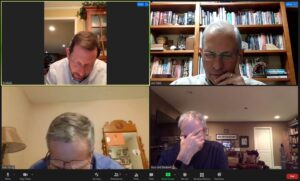 As a reminder, if you would like a prayer request put in the bulletin on the prayer list, it is best to email our church office at
office@spartacoc.com
or call the office at 931-836-2874. The weekend bulletin is usually printed by Friday morning at 9am.
"Do not be anxious about anything, but in everything by prayer and supplication with thanksgiving let your requests be made known to God." – Philippians 4:6