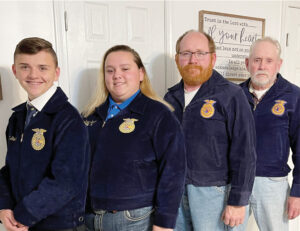 Some families hand recipes down from generation to generation. Some families pass jewelry and heirlooms from grandparents to parents to children. Some families instill a love for a certain college athletic team in their children. Some families make memories visiting their favorite vacation spot year after year.
The Stocktons, however, have been passing a love for farming, making memories in the fields and the barns on their land, and instilling a love for the Future Farmers of America across three generations.
Mike Stockton, his son Paul, and Mike's grandchildren, Mackenzie and Will, are all members of the White County Chapter of FFA, with the youngest, Will, getting his blue jacket and continuing the family tradition, this fall.
Both Paul and his father Mike have earned Greenhand Degrees, Chapter Degrees, and the coveted Tennessee FFA State Degree during their time in the organization, and, while Mike has become limited in his involvement in the local chapter recently because of his age, he still loves to teach his grandchildren and pass along all the family knowledge of agriculture. Paul, on the other hand, is still heavily involved in FFA, volunteering his time to help with any of the local chapter events and coaching the livestock judging team in judging cattle.
"Agriculture has been a big part of all our lives since we were young," Paul explained about the family tradition. "Being involved in FFA gave us the opportunity to make connections with others who live the same way of life we do, learn and expand our knowledge within our desired fields, and also allows us to teach others and advocate for the importance of agriculture."
While helping the local FFA chapter is a passion for the Stockton family, teaching begins at home, and both father and grandfather wanted to teach the next generation the importance of hard work and responsibility. Mackenzie and Will grew up riding the family tractor and feeding cows with their dad, while also spending time in the garden, planting vegetables with their grandfather.
"We wanted them to know that they would get back whatever they put into their work," Paul said about having his children working in the fields at early ages and added that the agricultural work is year-round. "Training show calves, showing our cattle, and starting a garden usually starts out our year in the winter and spring. Summer is a lot of work as we start the major shows of the circuit, maintain our garden and prepare for harvest, and cut hay to prepare for the coming winter. Fall and winter at the end of the year consists of our final harvest in the garden and feeding our calves hay through winter."
And, as if that wasn't enough to keep all three generations of White County FFA members busy, Paul and Mackenzie are busy throughout the entire year selling the calves they raise and working with Mackenzie's horse.
While the work is hard and the hours are long, you won't find the Stocktons, even the youngest generation, complaining.
"My favorite part of farming is reaping the rewards of all my hard work. Buying and raising animals with potential and seeing them improve over time as I work with them," Mackenzie, who is a senior at White County High School, said while her brother, Will, a freshman this year, said that studying ways to improve the crop yield and quality of plants in both his flower and vegetable gardens are his favorite parts of working on the farm.
Working on the farm, whether in the fields or the barns, is a family tradition, but so is participating in the White County chapter of the Future Farmers of America, where each of the Stocktons said they have learned more about themselves and connect with like-minded individuals who will aid them in their futures.
"Getting to learn more about agriculture and applying what I've learned on my own farm is something I took away from all of my years involved in FFA," Mike said, while his son, Paul, said making new friends who share your interests and values and being able to stand with them, and them with you, through the highs and lows of both farming and life itself is something he will always cherish.
"FFA has allowed me to find my place in school as well as helped me to find what my interests are," Will, the last of the Stocktons to have been able to put on the Blue Jacket, said explaining the importance of the organization to him, while his sister said meeting new people from across the state and sharing a collective knowledge of agriculture with them is what makes being an FFA member important to her.
While each of the Stocktons got their start in FFA in the halls of White County High School, and while Mike and Paul have continued their involvement through their adult lives and have shared a love for agriculture and instilled the importance of working the land in Mackenzie and Will, the future for the youngest two is still theirs to make what they want out of it, but there is no doubt that FFA will play a part in helping them determine what that future looks like.
"I hope that my experience in farming and FFA has given me the knowledge I need to one day become a successful large animal veterinarian and to help me better run my own farm in the future," Mackenzie, who will graduate in a few short months, said.
Then, she will start the next leg of her agriculture education as she builds on the foundation that her father, grandfather, and FFA have given her.
And Will, while he has a few more years as a student member of the White County FFA chapter, is looking toward the future as well, saying he hopes the skills he has learned on the farm and the knowledge he will gain over his next four years in FFA will help him decide what his future will include.
"Having my family involved in agriculture has made them into more responsible and well-rounded individuals," Amanda, Paul's wife and the mother of the youngest generation of Stockton FFA members, said. "It also makes me happy to see them engaging in things that they are passionate about that will have an impact on their communities."