Good morning church family,
Three of our members have reported receiving SPOOFED emails from me asking for $1000 in gift cards. This is a SCAM from an imposter email address.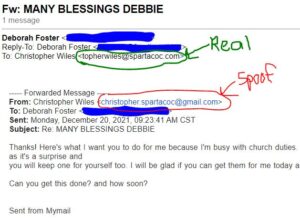 The good news is that none of our church email accounts have been HACKED, meaning no unauthorized individual has gained access into our emails. SPOOFing is when someone creates a fake email address, fake Facebook account, or face phone number posing to be someone one of us.
So, if you receive an email from the spoofed account "christopher.spartacoc@gmail.com", I would like you to do two things.
1) Report the email as "Phishing" to your email service provider.
2) Email me or text me letting me know you received one.
I'm trying to figure out just how many of our church email addresses they have and where they got them from.