Welcome to Central Church of Christ, not a place, but a people called out by God to Show His Love, Tell His Story, and Be His Family. Today we begin a new message series from the Bible called, "Let's Talk About It" exploring some of the common mental health struggles people, even Christians deal with, and how Christ through His Word can help. Please turn to the disciples story with the storms of life in Matthew 8 as we prepare for today's Let's Talk About It Topic.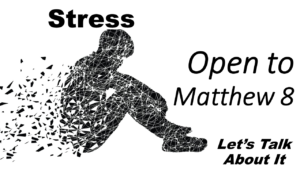 According to Gary Collins the effects of stress are wide ranging including: ulcers, headaches, rashes, cardiac issues, insomnia, reduced productivity, relational volatility, reclusive tendencies.
Proverbs 12:25
"An anxious heart weighs a man down…"

There is a tension between the Bible and Stress/Anxiety
Do not be anxious about anything, but in everything, by prayer and petition, with thanksgiving, present your requests to God. – Philippians 4:6
I tell you, do not worry about your life, what you will eat or drink; or about your body, what you will wear. Is not life more important than food, and the body more important than clothes? (Matthew 6:25)
"Do not worry, saying, 'What shall we eat?' or 'What shall we drink?' or 'What shall we wear?' For the pagans run after all these things, and your heavenly Father knows that you need them. But seek first his kingdom and his righteousness, and all these things will be given to you as well. (Matthew 6:31-33)

How to deal with Stress:
#1 – Get Away for a While!

"When Jesus saw the crowd around him, he gave orders to cross to the other side of the lake." (Matthew 8:18)
#2 – Probe Your Priorities
Another of the disciples said to him, "Lord, let me first go and bury my father."
22 And Jesus said to him, "Follow me, and leave the dead to bury their own dead."

#3 – Cast Your Cares on Him
"A furious squall came up, and the waves broke over the boat, so that it was nearly swamped. Jesus was in the stern, sleeping on a cushion. The disciples woke him and said to him, 'Teacher, don't you care if we drown?' He got up, rebuked the wind and said to the waves, 'Quiet! Be still!' Then the wind died down and it was completely calm. He said to his disciples, 'Why are you so afraid? Do you still have no faith?'" Mark 4:37-40
Cast all your anxiety on him because he cares for you. – 1 Peter 5:7
"God's got this!"

"But God shows his love for us in that while we were still sinners, Christ died for us." – Romans 5:8