This morning felt a little strange parking in an actual parking spot. For 14 months I have loaded up the steel steps in the back of my truck In the early morning hours and parked my truck underneath the carport so our church could have access to the roof.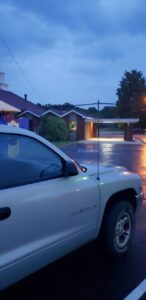 I'm looking forward to worship at 10:00 a.m. with all of you!
Reminder of a few changes today.
We will have an 8am church service at Lifecare and a 10am worship service in the auditorium.
Members can still pull in the parking lot at 10am, tune in on the radio at 98.3fm, and receive communion outside.
Indoors, mask wearing is optional.
Our education ministry is working on our next steps for Bible Classes. Stay tuned for more info soon!
"And whatever you do, whether in word or deed, do it all in the name of the Lord Jesus, giving thanks to God the Father through him." – Colossians 3:17